10 Reasons Why use a sunscreen that does not like sunscreen. Must go back to use again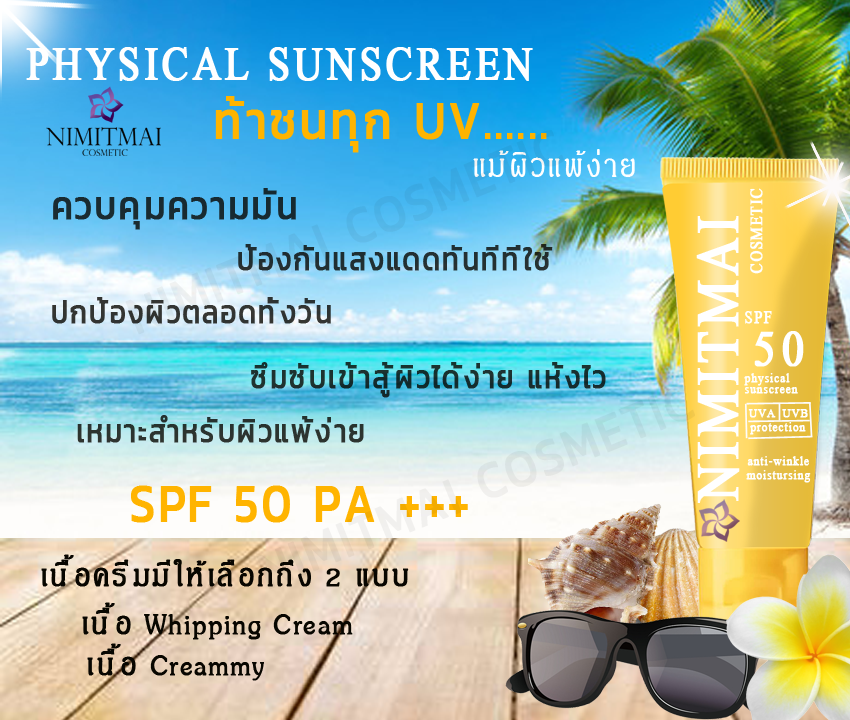 Confess that you are another person who will not apply sunscreen before leaving home. Because I don't like to make the skin gooey or lazy because I have to wait 15 minutes to leave my house, right? But know that if the skin is not protected from UV radiation for a long time, it will cause you to face many unexpected skin problems.
1.Skin whitening

No one wants to make the skin dull, black, shabby. Really? Which if anyone finds this problem Try to think about whether you protect your skin with sunscreen today. If today anyone has not applied sunscreen, then Hurry to take it quickly, because applying sunscreen regularly, in addition to not causing the skin to become darker It also helps the skin as a natural right.
2. Protect your skin
Whether it is freckles, sunburn, dark spots and acne, these skin problems that occur because the skin is not protected by sunscreen If you don't want to waste time and lose money, restore your skin and deal with these skin problems. Invest to buy good sunscreen for protection before it is better.
3. Skin remain youthful for longer.
Ever wondered why some people are young? But aging skin is not far away and many pores. The primary causes of aging skin aging from the sun's life. Because if you don't apply sunscreen to protect your skin from UV rays at all Will make the skin wilt Flexibility is reduced. Unexpectedly, there may be more wrinkles. Just as much, it scared me so ...
4. Skin cancer does not invade
If in the future you don't want skin cancer to come to life You have to find a good quality sunscreen with a high SPF and apply immediately to me. Because just letting our skin be exposed to the sun a few times It susceptible to skin cancer than other people do. I know this, do not forget to apply sunscreen regularly on a daily basis anyway.
5. Skin formation is not okay.
If you let your skin against the sun full on until skin formation. This looks absolutely not okay. If taking pictures with friends and not wanting to see the black hole as possible Must hurry to apply sunscreen regularly on a regular basis, prepared Certifying that in addition to the skin is not dark It also helps the skin look healthier glow than anyone.
6. Burning red skin
When traveling to the sea or playing sports and being exposed to the sun for a long time, if you do not apply sunscreen protection In addition, the skin will become noticeably darkened. Will also cause skin burns, burning red accidentally peeling off the sheet, so I go out in the sun a long time to apply sunscreen at all times and must be repeated every 2 hours with it.
7. Get a healthy skin
If you don't want collagen and skin elasticity to disappear No need to do much. Just find a good sunscreen to apply regularly. It will help to lock collagen and elasticity in the skin still on. And also get healthy skin as a giveaway too
8. Skin in one step
Now sunscreens are available in the market. Not only helps protect the skin from UV rays only But there are still many skin care substances that just apply one way to finish in one step No need to find a skin care cream, other hassles.
9. Use makeup instead Bass
Have to admit that in the market there are a variety of sunscreen formulas to choose from, including primer, BB cream and many other things Which will help you save time in makeup as a stack Plus, don't have to pay to buy many makeup base to apply over many layers with the real stuff.
10. Makeup is lasting all day.
In addition to sunscreen, it helps to improve the facial skin to be white and smooth without having to rely on other makeup base and also help make the makeup lasting all day. Because if the sun is uniform Healthy skin will not dry or dull. And when the skin is fine, when applying foundation or powder, it will help to stay unbearable during the day.
See that sunscreen is an item that Use everyday undeniable. Just apply regularly on a daily basis. It allows for better skin health. And various skin problems are not chaotic